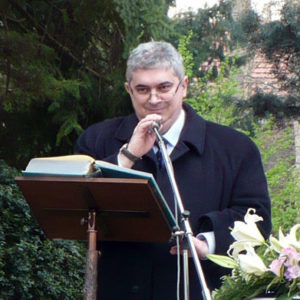 Emilio Artiglieri is born on August 9, 1960.
He is graduated with honours in Law at University of Genova.
He subsequently earned summa cum laude degree in Canon Law at the Pontifical Lateran University in Rome.
Following a three-year apprenticeship at the Studio of the Rota, and the final exam, in 1993 he received the title of Advocate of the Rota.
He also obtained Secialisation Diplomas at the Congregation of Sacraments and Divine Worship for the process of dispensation from a ratified not consummated marriage, and at the Congregation for the Causes of Saints to exercise the office of postulator.
Since 1991 he has worked at the Ecclesiastical Tribunal of Liguria Region, first as a Defender of the Bond, and from 1992 to 2002 as Judge.
Since 2003 he exercises private practice as Adovcate of the Rota.
He is following as Postulator some causes of beatification, such as Ettore VERNAZZA, for which he was directly appointed by Cardinal Tarcisio BERTONE and the one of the young "focolarini", Alberto MICHELOTTI e Carlo GRISOLIA, indicated by Card. Bertone as a model for young Christians on the Day of Youth in Cologne.
He is also Postulator at the Congregation for the Causes of Saints of the cause of Sister M. Consolata BETRONE .
In addition to being Rota Lawyer, he is civil attorney in the jurisdiction of Rome and  solicitor of the State of the City of Vatican.
Also deals with causes at the Supreme Tribunal of the Apostolic Signature.
He has carried out activities of legal advice for Foundations and general Treasurers of  major religious Congregations.
Is Chairman of the Board of ligurian Rotal Attorneys.
Is Regional Delegate for Liguria of the Union of Italian Catholic Jurists.
Is author of several publications on the subject of canon law of marriage.
Is 'Commander and Dean of the Ligurian Section of the Order of Knights of the Holy Sepulchre in Jerusalem, of which then has the first operational responsibility.
Since 1994 he is part of Serra International: was President of the Serra Club of Genova (184), the first in Continental Europe for two years (2001-2003), promoting high profile cultural events.
In 2007 has benn appointed for two years Trustee, that is member of the international Executive Board of Serra.
He is Secretary of the Foundation of Religion and Worship Blessed Junipero Serra, whose is member of the Administration Council by appointment of the Ordinary of Genova.
He is Secretary and Coordinator of Papa Pacelli Committee.
He carries out Lecturer activities both at several Serra clubs in Italy, and at public and private cultural institutions.

STATUS OF THE CAUSE
of the Servant of God Sister M. Consolata Betrone
READ
Article of the Postulator, Mr. Emilio Artiglieri,
appeared in the periodical
"La piccolissima via d'amore di Suor M. Consolata Betrone" (n. 2 - 2007)