DO YOU WANT TO BE PART OF THE"LITTLEST SOULS"?
Father Lorenzo Sales, spiritual Director of Sister M. Consolata, in the book "Trattatello sulla piccolissima via d'amore" answers to the questions:
- WHICH FORMALITIES ARE REQUIRED TO BECOME PART OF THE " littlest souls "?
No formalities: neither of registration, nor of distinctive, nor of anything of this kind. This is not an Association, or Company or other, but a spiritual way open to all souls who feel called to follow it.
- HOW MUST BEHAVE THE SOUL THAT FEELS ATTRACTED BY THIS WAY?
It must examine itself withou haste, with calm and reflection, to ensure that this impulse is fruit of God's grace and not an ephemeral enthusiasm. It will be good, therefore, to ask light to God with more intense prayer and meanwhile exercise for some time, without a formal commitment, in the three points of the littlest way , especially in the ceaseless act of love. Only after having experienced that heart and spirit feel good on it, and a real improvement in interior life, the soul will be able to do its consecration as Littlest .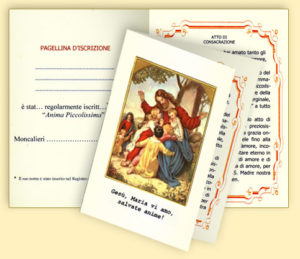 To underline its decision, have a reminder of the essential points of the "littlest way"
and the text of the consecration alway at hand, has been prepared an "APPLICATION FORM",
only for personal purposes. Who desires, can request to be inserted in the Register of
the "Littlest Souls" that lies on the urn of Sister M. Consolata.